Echo servers‬
BE READY FOR RISKS!‬
Don't worry if your server goes down. A backup one will work automatically.
NEW TECHNOLOGY PROVIDING MORE ASSURANCE
ON YOUR SERVER
Echoservers are essentially two servers with the same hardware and operation system, one mirroring the other and acting as a slave.‬ All data, settings, partitions, services, scripts, and IPs are synced to the slave server.‬ The slave server is in idle state and works automatically when it detects through a delicate monitoring system that the main server is down‬.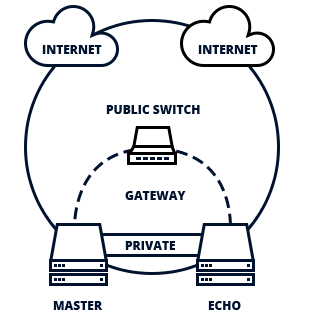 WHY ECHOSERVERS FROM MHGOZ
Mhgoz is the first Arabian company and one of the first companies worldwide providing echoservers.
This is due to the collaboration between Mhgoz and HostDime - one of the best datacenters in the world.
To have two servers is of course better than to have one. It will give you more reliability.
This service guarantees you high availability and continuous operation for your server.
Do you want the echoservers service?
Contact us now and we will give you all the details you need.
Request a quote
FAQ
DO I HAVE TO UPGRADE THE SLAVE SERVER WHEN UPGRADING THE MAIN ONE?‬
Certainly yes. The slave server must be an exact mirror of its master server.‬
DOES THE ECHO SERVICE WORK WITH THE WINDOWS PLATFORM?‬
Unfortunately not. It's only available on servers working with Linux CentOS.‬‬